Jetpack for WordPress – Pros and Cons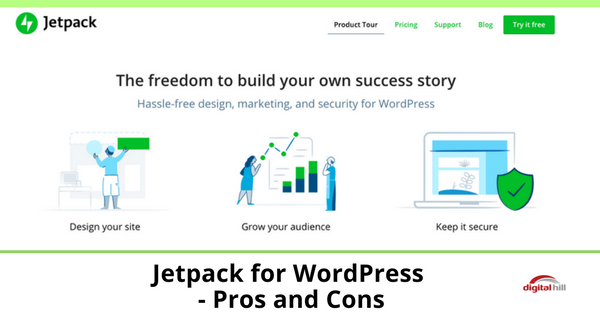 The WordPress Jetpack plugin comes with many features for your website. The creators of WordPress, Automattic, are the ones who developed this plugin. You can find this plugin on countless sites, and it has many features, but is it worth adding to yours?
Jetpack for WordPress Basics
This toolkit encompasses many features that website owners need as a foundation for their site. The full functionality list is a bit overwhelming, but here is a quick list of what Jetpack is capable of:
Theme installation and management
Security
Social sharing
SEO
Spam filtering
Site backups
Site optimization
Marketing automation
The basic Jetpack features are free. But more advanced features, like site backups, are part of the paid Jetpack plugin.
Let's figure out if Jetpack the right choice for your goals and your website.
Pros: Jetpack for WordPress
Jetpack is an all-in-one plugin that encompasses many WordPress features most websites need. The caching features are excellent, especially if you have a high volume site.
The security features are another major benefit. Since WordPress is the most-used content management system in the world, (It runs approximately 29% of all the world's websites), it gets a lot of attention from hackers. While staying up to date with the latest WordPress updates may eliminate most vulnerabilities, having an extra layer of protection through Jetpack is critical. Many vulnerabilities aren't found until they are an issue. The additional layer of security you get from Jetpack will eliminate most worries.
Downtime monitoring will alert you to issues that take your site down and render it inaccessible. Since you want to avoid downtime as much as possible, getting a quick warning can help you speed up the troubleshooting process.
Site analytics, social sharing, related posts and other marketing features work well for fueling site growth and streamline the manual tasks required to promote your posts after you write them.
Since Automattic, the company that owns WordPress, created this plugin, you don't have to worry about it being neglected or missing security updates. Frequent improvements and patches keep this plugin going strong.
Cons: Jetpack for WordPress
Jetpack sounds wonderful on the surface, as it brings many of the best WordPress. com performance features to self-hosted WordPress websites. However, whether it's the right choice for your site or not requires a closer look.
The all-in-one approach is the biggest boon and bane for Jetpack. If you don't have any best-in-class favorites in the categories that it covers, then it's a no-brainer to get all of that handled at the same time.
However, Jetpack's advantages start to drop off if you have a robust plugin load and you're only after a handful of the features. While you can toggle everything off and on as needed, it's still taking up resources that a single purpose plugin doesn't.
The other big disadvantage is the price if you want to use any of the advanced features. While the baseline offerings are handy, the power user tools are locked behind paid subscriptions. If you're already juggling other paid plugins, you may find it difficult to fit Jetpack into your budget.
There's no clear-cut answer on whether Jetpack is worth it for your site. Consider the pros and the cons as they apply to your unique situation, and choose the option that serves your short and long-term goals. Need help deciding? We can consult with you and make recommendations or do full/partial setups.
Is the WordPress Jetpack Plugin Worth My Money?
The WordPress Jetpack plugin is a premium add-on for WordPress that extends the functionality of the popular blogging platform.
The question is, is this plugin worth the money, even with all its extra features?
The good news is, WordPress offers a free version as well as a premium version of Jetpack. We will go over what the difference is, so you can make an informed decision.
What is the WordPress Jetpack Plugin?
WordPress, as you probably already know, is the most popular content management system (CMS) and blogging platform in use on the Internet today.
WordPress comes in two forms:
1. WordPress.com
WordPress.com is a hosted blogging service that does not require any installation of CMS software or a paid web hosting account at a web hosting company such as GoDaddy or Dreamhost.
A basic WordPress.com account is available free. The benefits are that you can blog without worrying about hosting or maintaining any software. However, you cannot customize the WordPress.com platform, add new plugins, or put any paid advertising on your website.
WordPress.com has a premium business account option that costs money but offers more options, including the ability to add your own plugins.
2. WordPress.org
WordPress.org is not a site where you host your blog. It is where you can download the WordPress software (for free) to install on your own web host. Then, you can choose which plugins, such as Jetpack, would be appropriate for your particular WordPress installation.
WordPress Jetpack Features
In assessing whether the WordPress Jetpack is worth spending money on, it is important to review the plugin and its features. As you will see below, some of the more advanced features of WP Jetpack are only available for certain levels of paid subscriptions.
Most of the extras offered by Jetpack can be delivered by other WordPress plugins (often by different companies). Some of these other free or premium plugins may do the job just as well – if not better than – Jetpack.
1. Free WordPress Themes
One of the basic "sales points" of the Jetpack plugin by WordPress is that you can get more than 100 WordPress themes for your website.
A "theme" is basically an overlay for your content. It is like an item of clothing or outfit that you can put on, take off, and replace with another theme to change the look and feel of a website. Themes may include certain colors, decorative images, and fonts used for headers and blog text. Depending on the theme, your main menu may be at the top of the blog (centered, left justified, or right aligned), or perhaps the menu is over at the right or even the bottom of the page.
WordPress comes with basic free themes that you can use right out of the box. Your WordPress website must always have a theme active, because it is the theme that determines how the content is presented. Without a theme, your website won't run because nothing can be displayed.
Here's the thing: Without WordPress Jetpack, you already have access to thousands of free WordPress themes.
These are available from within the WordPress backend and can be downloaded and tried at any time. The main problem with these themes is that there are almost too many to choose from. Some are better than others, so, you have to wade through a lot of crap sometimes to get to the good stuff.
2. Performance Improvement
Performance improvement is all about making your website load faster and more efficiently. If your website loads in a reasonable time frame, and you aren't having any major server hiccups, then that is the basic level of website performance you need.
If you have a small website with little to no traffic, you should not need to worry about performance beyond that baseline. Most shared hosting environments should be sufficient for your needs, and you should not have to worry about performance beyond that.
Larger websites that get a lot of traffic really do need to concern themselves with performance, because the more people are hitting your site simultaneously, the more stress that will get put on your server and database.
Therefore, performance enhancements, which are not necessary for smaller blogs, are absolutely essential. However, at that level, you hopefully have a talented web developer or system administrator (or trusted web host) handling performance issues, which may need technical adjustments beyond just what any WordPress plugin can do. This can include adding additional servers or in the least having the database server be separate from the server that delivers the web pages.
Therefore, whether the Jetpack performance options are right for your business is something that should be assessed by a competent technical professional.
3. Security and Spam Prevention
Security and spam prevention is very important in WordPress.
Because it is such a popular CMS program, WordPress is the constant target of hackers and spammers. If you do not monitor your WordPress website on a regular basis, and keep your plugins updated, then your chances of being hacked are very high.
However, the most popular plugin for security is not Jetpack but WordFence, by a different company (and there is a free option).
4. Social Media Integration
Some levels of Jetpack enable you to automatically share your blog posts on social media networks such as Twitter and Facebook. Scheduling is also included in some plans.
5. Google Analytics Integration
Google Analytics is an important tool for tracking where your traffic comes from and how long people stay at your website. With Jetpack, you can easily use Google Analytics to get up to date information on what is going on with your website traffic.
Other plugins will do this as well, of course, or you can even manually enter in some Google Analytics code.
6. Daily Backups
WordPress should be backed up regularly, especially with the security risks associated with the software. Jetpack offers the ability to do daily backups and maintain site archives, starting with the personal subscription level service.
There are also many free backup plugins available for WordPress that might work just as well.
7. Payment Options
Higher levels of service offer PayPal and advertising integration. However, for serious e-commerce, most WordPress sites tend to use a special plugin for that, such as Woo Commerce.
What Does WordPress Jetpack Cost?
The Jetpack plugin by WordPress has a variety of subscription levels, including a free option, so you do not have to jump in and pay a lot just to use basic features. Additionally, some web hosting providers bundle in some premium Jetpack options with their WordPress hosting plans.
The prices quoted here as current as of this writing but may be different by the time you read this.
1. Free Subscription
The free subscription to Jetpack includes 100+ free WordPress themes, performance enhancements, statistics, and some security scanning. You even get free email support.
2. Personal Subscription
This level costs $3.50 per month or $39 each year. It includes everything the free service provides, but adds automatic daily backups and spam filtering, as well as priority support.
3. Premium Subscription
A Premium Jetpack subscription costs $9 per month or $99 per year. The features included with the Premium option include more than 100 free WordPress themes, performance improvement (including unlimited image and video CDN, and lazy loading images), and daily automated backups with a 30-day archive.
Security features include protection from brute force attacks by hackers, monitoring of downtime, automated filtering of spam, regular scans for malware, and security fixes.
This level of subscription also includes a variety of marketing tools including page statistics, social media scheduled posts, SEO support, and integration with Google Analytics. Revenue generation includes ad network approval and the ability to accept PayPal payments.
You also get support from WordPress, including email help, priority support, and concierge setup service.
4. Professional Subscription
This level of service has everything that the premium subscription offers, and adds 100 more WordPress themes, real-time automated backups, unlimited archives, premium theme support, and Elasticsearch-powered site-wide search.
5. Bundled Package
Some hosting companies offer the WordPress Jetpack plugin for free along with their WordPress hosting package. The Jetpack website has a list of recommended web hosts, some of which, like Pressable, include a Jetpack subscription (at different levels) with your web hosting.
Should You Pay for WordPress Jetpack?
Is a paid WordPress Jetpack subscription really worth it? We would say this depends on what you are looking for in terms of functionality.
If all you want are free WordPress themes, you can get that without Jetpack or just use the free version to get over 100 themes. If you are looking for better performance, Jetpack free will also provide some boost. Other plugins can also be used for security (WordFence), backups, or e-commerce.
However, Jetpack provides an all-in-one solution with additional support that may be valuable to some businesses.
Invest in some screen real estate with a new big screen, backlit monitor availabe in five different sizes and price points.
Four Jetpack Features Worth Exploring
Even if you've been using it for years, you might be unfamiliar with some of Jetpack's features. With the wide range of capabilities offered, it's too easy for some of the coolest — and perhaps the most useful — tools to go unnoticed.
Today we're going to look at four features that are lesser known, but just as powerful as those you might already be familiar with. These features will ultimately enhance your WordPress site in new ways, from improving its design to taking the hassle out of maintenance.
Bundled free and premium WordPress themes
If you haven't been keeping up with our blog in these last few months, you may have missed the news that Jetpack now includes more than 160 themes. These are all professional themes created with a focus on quality design and aesthetic — and they're free for anyone to use. To sort through the options you have available, navigate to Appearance > Themes > Add New.
With so many themes to choose from, there's no reason to settle on a theme that doesn't align with your business. If you own a vibrant flower shop, you probably wouldn't choose a theme with a dark color scheme. A flower shop owner can browse through all these themes to find a new look for their site that is fresh, bright, and allows plenty of space for photos of their arrangements.
Jetpack can help you find a theme that fits your business, theme, or interests.
One enhanced feature of these bundled themes is the catalog browser experience. The Jetpack theme catalog not only includes standard Preview and Install options, but also has several additional features:
Live Demo — an interactive version of each theme that displays sample content, allowing you to visualize how your copywriting, images, and widgets will appear.
Try & Customize — try customizing a theme you like before you apply it, and explore how your current content will look with each theme.
Info — read a description of each theme, or view helpful videos and tips to optimize each one.
Support — access additional resources for implementing your themes, including links to forums.
A fresh site design attracts more visitors that will explore your pages for longer amounts of time. Many themes can also extend the functionality of your site, providing new tools that better serve your audience, like special photo galleries and comment sections.
If the 100+ free themes included with Jetpack aren't enough, you can get even more: upgrade to Jetpack Professional and you'll also have access to over 200 premium themes. Read more about these themes and Jetpack Professional right here.
Automatic plugin updates
Want to save time running and maintaining your site? Jetpack can enable automatic updates for WordPress and your plugins.
In today's connected world, it's more important than ever to have the latest security tools in place. Automatic updates offer you a high level of security without having to implement it yourself. Whether you're writing blog posts for fun or are running a business site, you shouldn't spend valuable time worrying about plugins and keeping them up to date.
You can learn how to enable automatic updates with Jetpack here. Note that these updates are only available for those plugins hosted within the WordPress.org plugin repository.
Enable automatic updates with Jetpack and save yourself time, hassle, and worrying about plugins.
With the Automatic Plugin Updates feature enabled, you can sit back, relax, and focus your time on completing important business tasks instead of worrying about security and site management.
Visibility options for your widgets
Even if you're a Jetpack expert, you might not know that it adds a "Visibility" button to your WordPress widgets. Widget Visibility offers another level of control over how and where your widgets are displayed. This lesser-known Jetpack feature is enabled by default.
With Widget Visibility, you decide whether or not to display a widget based on a variety of criteria. For example, you can display a small contact form on the sidebar of your pages, but hide it on your "Contact Us" page where a full sized form appears. You could also display or hide text widgets — for example, show a widget with a writer's bio if the author is "Lance Cleveland" and the category is "Jetpack."
Filters that you can use to hide or display widgets include Category, Author, User, Role, Tag, Date, Page, and Taxonomy. Some of these options have further finesses, like page or post type.
Flexible visibility settings let you customize your site in various ways.
Implementing Widget Visibility is a great way to build a better user experience for your visitors. Less clutter ensures your message is clear and concise on every page, which leads to more visitor interactions — always a good thing.
The Infinite Scroll option
One final Jetpack feature you may not be familiar with: Infinite Scroll. This is a great option designed to improve the user experience and also increase the time visitors spend on your site.
Typically, themes are configured to display posts by listing them throughout a series of pages. Visitors are presented with a list of articles, including the title and a preview, followed by a list of page numbers linking to more articles. This process is slower than it needs to be, as it requires reloading the entire page when a link is clicked.
With Infinite Scroll, a new page is replaced with a button or a "scroll interaction," which loads the next set of articles on the same page as the initial set. The content is displayed immediately after the last article, eliminating the need to reload the header, sidebar, and other page elements. It creates less stress on your server, and your readers receive content faster.
If your theme supports it, you can also use the "as the reader scrolls down" mode that comes with Infinite Scroll. This is a natural experience for mobile and tablet users that also works well on laptops and desktops. As a reader scrolls down the page, Jetpack detects when they reach the final article and automatically loads the next set.
Infinite Scroll makes your site significantly more user-friendly, which in turn encourages visitors to spend more time on it. This can help you succeed in building a loyal audience for your blog, or enticing future shoppers to support your business.
Take your site to the next level with Jetpack's features
Themes, Automatic Plugin Updates, Widget Visibility, and Infinite Scroll are just a few of the lesser-known tricks that Jetpack has up its sleeve. While there are far too many amazing Jetpack features to cover in a single article, the capabilities we explored above can take your site to the next level.
Which one of these features are you most excited to try? Experiment with one of them now and discover the unique experience that your site can offer visitors.
Explore the benefits of Jetpack plans
Compare plans in detail to see how Jetpack can help you design, market, and secure your WordPress site.